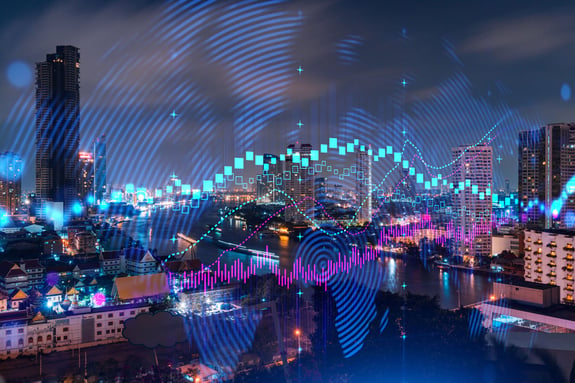 Unlock the value of your data
Meet Event Intelligence, a powerful engine to unleash the revenue potential of your network. Powered by Artificial Intelligence Algorithms, EI is capable of retrieving and processing thousands of events in milliseconds, whether they happen on your network or on any application. Workflows are automatically applied to orchestrate and automate processes and deliver powerful experiences with campaign management & journey orchestration.
Engage at the right time with contextual marketing
Have you imagined being one step closer to your customer needs, recommending relevant solutions, quickly solving any problem, or even preventing any problem before they even exist?
Use real-time triggers to develop targeted campaigns delivered at the right time
The workflows can be used to upsell a product in response to a failed action, deliver a timely personalised ad, proactively manage Quality of Service, or pre-emptively initiate a subscriber retention strategy.
Optimise customer experience
Track user journeys in real time from day one for a comprehensive view of service experience

→ Leverage data about device model, brand, specs and usage to foresee revenue opportunities

→ Location data like roaming country and cell ID can be used to optimise experience specific to locations and trigger notifications

→ Network Slices can be monitored to flag fraud, control revenue and obtain predictive insights
Ace Orchestration
EI Orchestrate is an agnostic module that easily plugs in with 3rdparty solutions to orchestrate events and trigger processes
Connect your applications to orchestrate workloads and events across environments.
- Able to accept events from any system via queues or http end points
- These events are pushed through a decision tree to determine what to do with it
- Aggregations can be stored against events to capture fraud scenarios
- Ability to feed into other systems or into our own Event Intelligence modules
Block fraud
Use the orchestration capability to monitor your network, applications and 3rd party systems.
→ Peaks of traffic, suspicious SMS activity, abnormal patterns, attempts to attack networks and other fraudulent signs can be detected early on.
→ Crete workflows to flag and block fraudulent and suspicious activity on your network
Modern, highly integrated application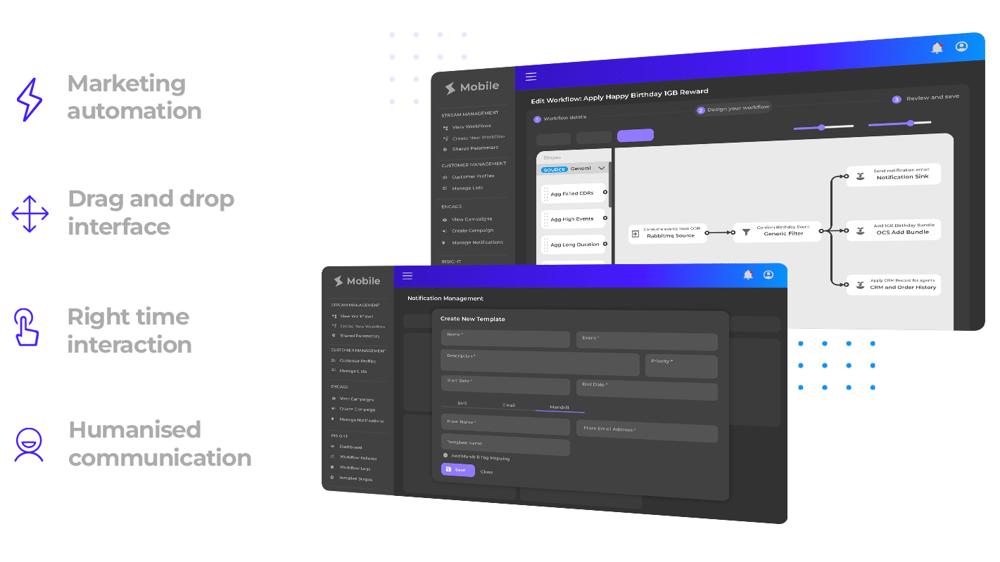 customer experience
Contextual Campaigns - How it works
Understand customer journey & data

EI is connected to your applications to understand in depth the user journey and pinpoint pivotal moments

Start creating workflows

Easily create the workflow that suits your needs, selecting triggers and outlining the steps with a drag-and-drop designer

Create personalised campaigns

Develop unique campaigns and deliver them in the most adequate channel: SMS, RCS, Email, push notification or other.

With templates, merge tags and plenty of options to customise easily

Test the workflow and go live!

Test

your workflows in real-time

and

deploy them

by

simply

clicking

publish. You can edit it at anytime
Intelligent and automated revenue capture
Reach your goals faster with automated orchestration and enhanced customer experience. To get more details about Event Intelligence get in touch with our team or download the complete Event Intelligence product sheet.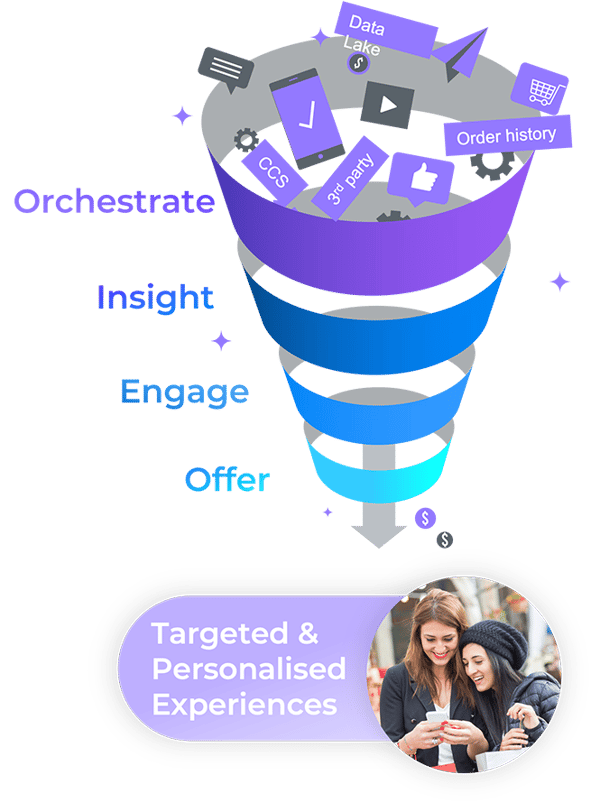 How can Event Intelligence
Benefit telco operators
Boost Revenue
Whether is an upsell add-on campaign, a retention one or acquisition programme, real-time contextual campaigns are proven to deliver an uplift in conversion rate results.
Orchestration automates and simplifies processes to ensure cost efficiency accross your network​
Shielded against fraud
Fraud prevention & control is essential to protect your network from attacks and fines and to safeguard your customer's security.
Cybercrime, data security and scams can be detected early on and blocked efficiently.
Custom Retention & Loyalty
Being relevant and timely in customer interactions boosts loyalty and retention. Segment and impact your subscriber base with personalised campaigns
Get in touch with us
Find out more about how Lifecycle can help you accelerate your business growth and reach your goals.