introducing the ALLinONE Event Intelligence module
The ALLinONE Event Intelligence module monitors the feed of events and enables your business to act upon them. Using filters and real-time checks, it can trigger new workflows to provide a unique end user experience in a manner that suits your business. Filters can be controlled directly with a set of Lifecycle APIs so you can define your own unique workflows with real-time updates. 
ALLinONE Event Intelligence is a powerful complementary module to the ALLinONE OCS (Online Charging System) and CCS (Converged Charging System), using real-time billing and usage triggers to drive a personalised customer experience for MVNOS, mobile networks, resellers, IoT and 5G providers, or any partner wishing to attract and retain subscribers.
create unique incentives that beat the competition
Define unique, real-time workflows to delight your subscriber base, such as offering the end user a reward after a defined number of renewals or on a special date.
encourage subscriber loyalty and spend
Use failed events to initiate workflows that trigger an upsell message or a notification helping subscribers complete their desired action.
stop fraudulent activities to prevent revenue leaks
Event Intelligence can be used to drive a workflow that immediately suspends a subscriber that is displaying fraudulent behaviour.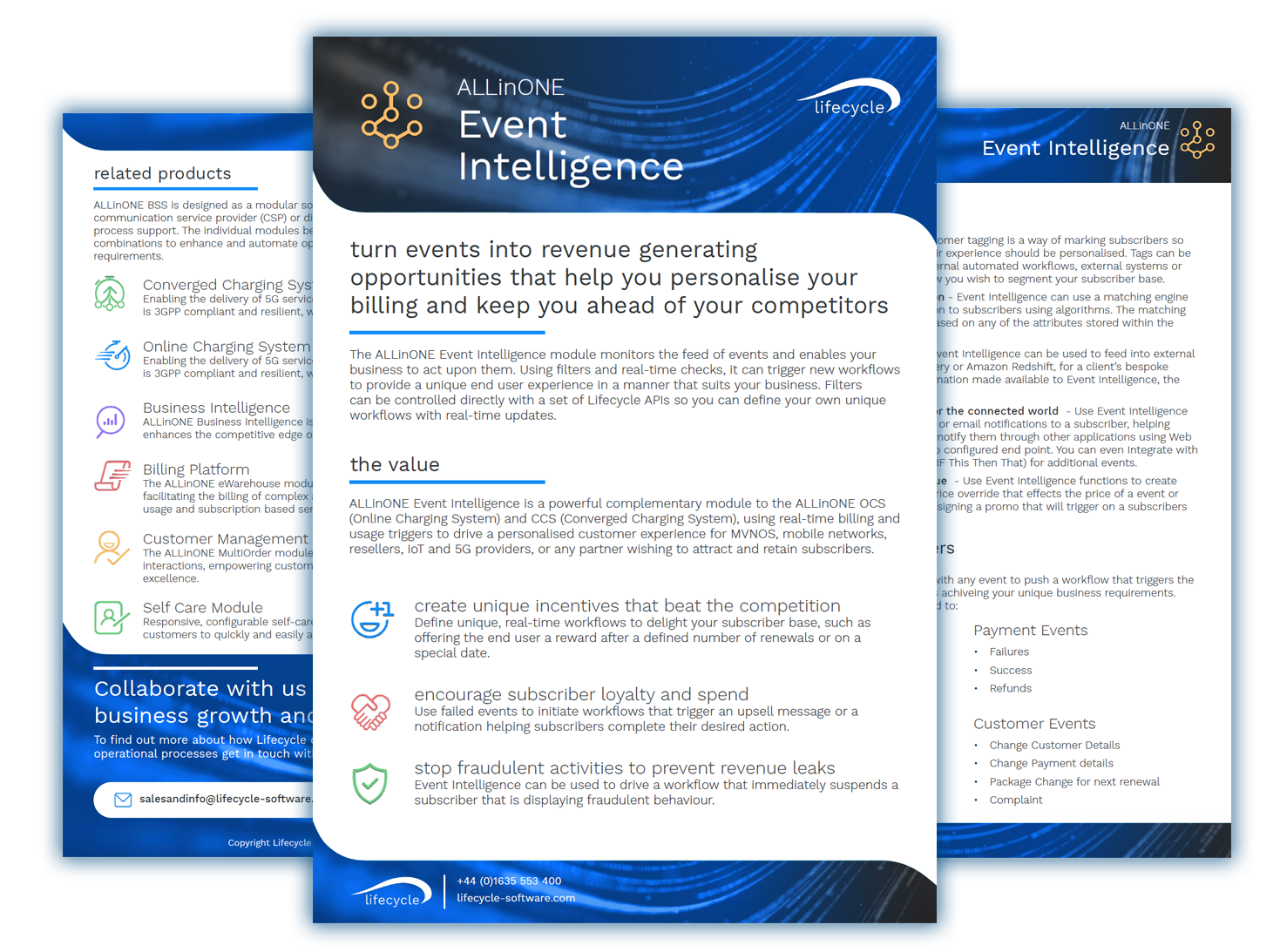 intelligent and automated revenue capture
Download the complete Event Intelligence product sheet.
download now
key product features
ALLinONE Event Intelligence is an optional module within the ALLinONE BSS suite which can be deployed alongside other key ALLinONE components.
download bss overview
related products
ALLinONE BSS is designed as a modular solution, making it flexible enough to suit any communication service provider (CSP) or digital service provider (DSP) requiring business process support. The individual modules below can be deployed separately or in multiple combinations to enhance and automate operational processes depending on your specific requirements.
get in touch with us
Find out more about how Lifecycle can help you accelerate your business growth and reach your goals.
Contact us