introducing the ALLinONE Event Intelligence module
The ALLinONE Event Intelligence module uses predictive analytics and real-time decisioning to deliver strategic, personalised, and high value experiences to subscribers. Businesses with Event Intelligence integrated with their systems increase their revenue opportunities, customer retention, and the competitive edge of their digital products and services.

Event Intelligence monitors the feed of events, enabling Communications Service Providers (CSPs), Digital Service Providers (DSPs), Network Operators, Mobile Virtual Network Operators (MVNOs) and other subscription-based businesses to change their approach of selling into proactively serving individual subscribers, creating an automated yet hyper-personalised revenue stream.

With a set of Lifecycle APIs, businesses can directly control rules and filters to define their own unique workflows with real-time updates, to suit specific business objectives. A combination of these rules and filters, event data, business strategies, and real-time analytics can be used to initiate the best and most relevant actions required to meet a subscribers unique needs. For example, these workflows could be used to upsell a product in response to a failed action, deliver a timely personalised ad, proactively manage Quality of Service, or pre-emptively initiate a subscriber retention strategy.

The decisioning within Event Intelligence is reactive to all new available data in real-time, delivering the best experience for the subscriber within a changing context. Event Intelligence deepens the relationship between businesses and their customers which in turn reduces churn and increases profitability of products and services per subscriber.
create unique incentives that beat the competition
Define unique, real-time workflows to delight your subscriber base, such as offering the end user a reward after a defined number of renewals or on a special date.
encourage subscriber loyalty and spend
Use failed events to initiate workflows that trigger an upsell message or a notification helping subscribers complete their desired action.
stop fraudulent activities to prevent revenue leaks
Event Intelligence can be used to drive a workflow that immediately suspends a subscriber that is displaying fraudulent behaviour.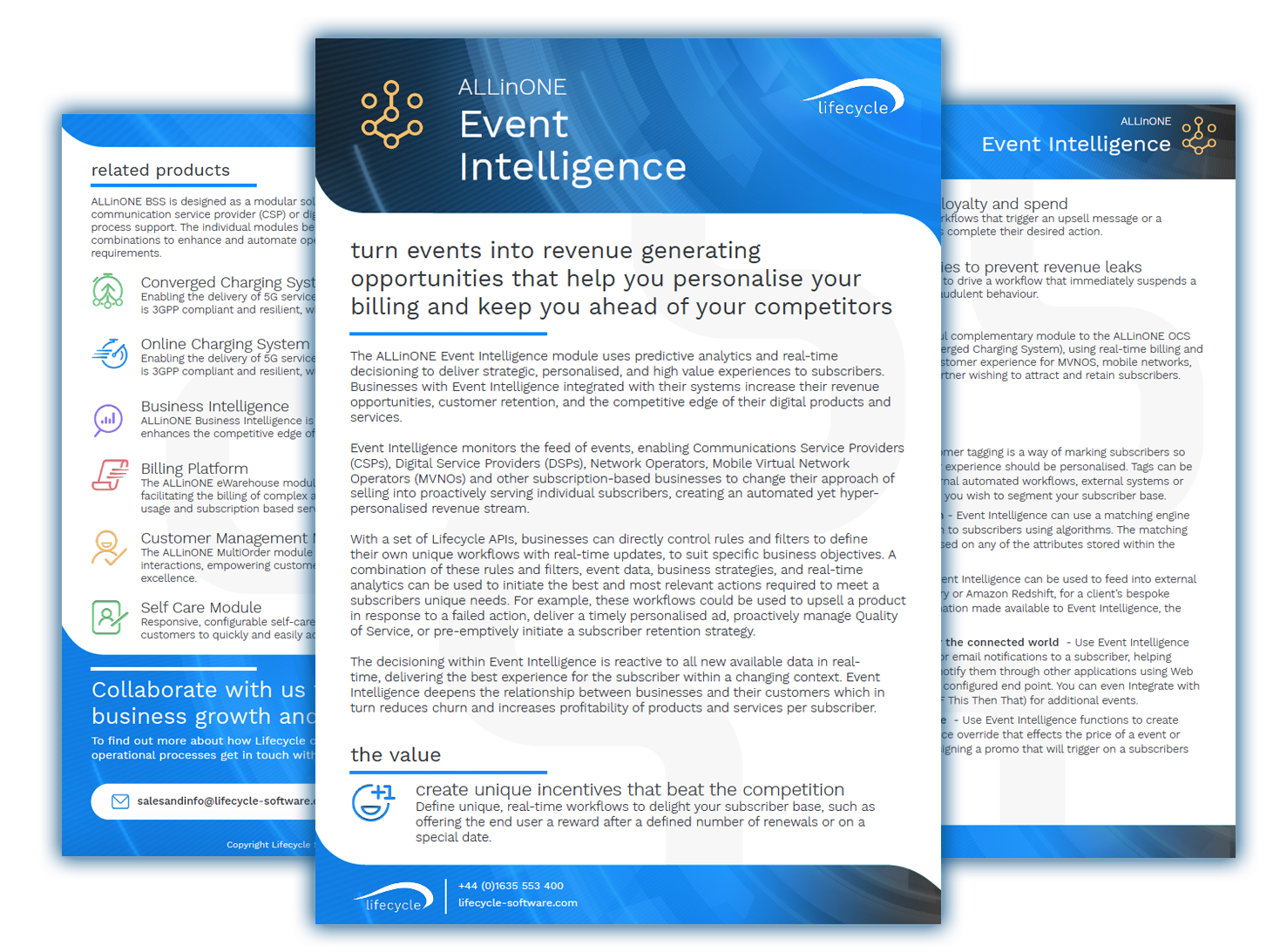 intelligent and automated revenue capture
Download the complete Event Intelligence product sheet.
download now
key product features
ALLinONE Event Intelligence is an optional module within the ALLinONE BSS suite which can be deployed alongside other key ALLinONE components.
download bss overview
business use cases
proactive care notifications
ALLinONE Event Intelligence can undertake decisioning to empower Network Operators or Digital Service Providers to proactively deliver support to subscribers, solving issues before they arrive. Operators can increase the speed and reduce the cost of customer care through pre-emptive notifications, emails or SMS to help a subscriber. CSPs and MVNOs can proactively solve customer problems, for example, when a subscriber's call fails because international calls are disabled on their account, a notification with a link to purchase an add-on bundle can be activated.
pre-emptive customer care
Event Intelligence gives businesses better performance insights by enabling visibility of the real-time experience of subscribers on the network, providing more accuracy and depth than using system reporting and transaction data. With location data available, a drop in signal can be made to trigger an automated workflow that diverts traffic to other network masts to maintain overall Quality of Service. With even more behavioural data about subscribers available, Event Intelligence can deliver notifications in the best and most relevant a time and location for the the subscriber to take action.
churn prediction and prevention
Event Intelligence can be used to monitor subscriber behaviour patterns and service experience data in order to recognise events that signify a risk of churn and then offer personalised retention strategies.

Real-time decisioning takes this further, as Event Intelligence can continue to incentivise over time, using predictive analytics to ensure this is done in the most relevant and effective way for that subscriber, retaining customers without over-incentivising. Event Intelligence can recognise patterns from existing data available on the system, identifying historic causes for churn, therefore revealing patterns that may signify when an existing subscriber may be about to leave. This data could include repeated poor coverage in frequently visited locations, bandwidth consumption, billing information, support history and device type.
identifying & incentivising influencers
Event Intelligence can prioritise incentives for higher paying subscriber or those deemed to be more influential. Social Network Analytics (SNA) can be used to recognise call patterns of friends and family, thus identifying subscribers with social influence that may encourage churn or promote your service within their social circle. Event intelligence can trigger 'refer-a-friend' incentives at a time when a subscriber has consistently experienced a higher Quality of Service (when they are most likely to share), running an automated acquisition campaign with no additional admin overhead.
location based services
With location information (such as cell tower ID) allowed, Event Intelligence can be used to customise the service delivered to subscribers based on an operator or MVNOs regional business requirements. With this data available, patterns of movement can be used to recognise opportunities to send personalised offerings that are more likely to be actioned upon due to geographical relevance to the subscriber. This could include a workflow to trigger location based advertising, offers for regional events and activities, or improved network bandwidth experience.
deep insights into network health
A further benefit of location based services is the insight gained from collective events aggregated from subscribers' devices in a specific area. This can drive workflows to give customers the best quality of service, as well as help an operator spread traffic and build a better network based on real subscriber usage. Event Intelligence provides better reporting of the experience subscribers are actually receiving, identifying key factors for churn.
Relevant campaign management
ALLinONE Event Intelligence allows Digital Service Providers to push products and promotions in a targeted, timely way. In doing this, ad campaigns and offers are more tailored and situationally relevant to a subscriber, increasing the likelihood for them to take action and place a purchase. With real-time and automated campaign management, up-selling or cross-selling products and services becomes far more effective across an MVNO or Communication Service Provider's ecosystem. Event Intelligence's decisioning capabilities reduces the admin time taken for businesses to identify target groups, meaning running offers is far more profitable and engaging to a subscriber's needs and desires in real-time.
automated & hyper-personalised offers
Event Intelligence can analyse data such as network usage, location, loyalty points, memberships, and frequently called numbers to identify specific actionable groups and nurture them through personalised offers and incentives. With even more usage data made available, Event Intelligence can market directly to subscribers in a hyper-personalised way, based on factors such as device type, operating system, periods of increased activity, or location. Event Intelligence can be used to combine marketing data with geographic rules such as GDPR or opt-in lists to help prevent non-compliance or mis-marketing to subscriber groups.
subscriber experience management
With Event Intelligence, real-time data and events captured from subscriber devices can be used to proactively recognise scenarios that are likely to cause a negative service experience, such as weakened signal or drop in quality of service.
Using metrics such as service status, location (if allowed), video latency, and dropped calls, workflows can be driven that mitigate or even prevent these issues becoming a negative customer experience. For instance, an MVNO could automatically notify subscribers of the poor network performance in their area, providing them with timely updates and expected timeframe for improved connectivity. With real-time, automated workflows providing quick responses to customer issues, potentially negative factors for churn can be transformed into opportunities for customer excellence.
priority QoS for premium users
In a scenario of weakened signal or drop in Quality of Service, Event Intelligence can combine service and device data with account information such as subscriber profitability. In this use case, specific rules can be set up that trigger a workflow that automatically reroutes higher value traffic to the next highest preforming service available as a priority, preventing them from experiencing the weakened network. This could be used in a premium bundle that is automatically targeted at subscribers who's usage historically demands lower latency or heavy data consumption such as travelling professionals or gamers who are willing to pay more to improve their experience.
fraud prevention & control
CSPs with a wide ecosystem of partners and sub-resellers often find it becomes more difficult to monitor and prevent fraudulent behaviour such as mobile spam. This wastes network bandwidth, increases support costs and reduces quality of service, which negatively impacts the experience for subscribers and harms the brand reputation of an operator and its partners. Event Intelligence can use analytics of usage over time, SMS rates, location data, and the time that activities are undertaken to recognise fraudulent behaviour patterns in real-time. This allows MVNOs and CSPs to proactively counteract fraudulent behaviours by triggering a workflow to terminate, block transactions, or suspend a subscriber in real-time. Using Event Intelligence, previous patterns can be identified from historic data, recognising previously unnoticed causes of revenue loss or fraudulent activity.
revenue assurance & personalised repayment
Network operators can use ALLinONE Event Intelligence to have better control over revenue leaks caused by their reseller partners and Mobile Virtual Network Operators (MVNOs). With each partner offering subscribers different propositions, bundles, pricing plans, debt management, and settlement agreements, it becomes less straightforward for an operator to analyse and control leakages in revenue. Event Intelligence can be used to undertake decisioning based on contextual financial activity to propose effective repayment plans tailored to subscribers who have not paid on time, recapturing potentially lost revenue and retaining a customer that is able to continue making purchases going forward.
related products
ALLinONE BSS is designed as a modular solution, making it flexible enough to suit any communication service provider (CSP) or digital service provider (DSP) requiring business process support. The individual modules below can be deployed separately or in multiple combinations to enhance and automate operational processes depending on your specific requirements.
get in touch with us
Find out more about how Lifecycle can help you accelerate your business growth and reach your goals.
Contact us