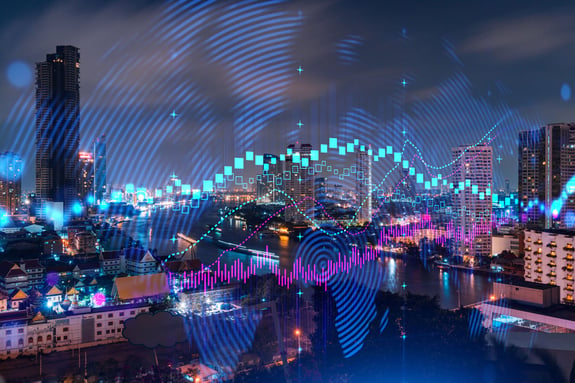 Unlock the value of your data
Meet Event Intelligence, a powerful engine to unleash the revenue potential of your data. with real-time trigger orchestration, personalised engagement and next best offer recommendation powered by AI.
Event Intelligence is capable of streamlining and processing Billions of events daily, whether they happen on your network, on any BSS applications or on Digital channels.
Workflow based decisioning rulesets are automatically applied to detect specific, trend and use cases to trigger the right action at the right time with personalised customer engagement, targeted campaigns, loyalty incentives, and tailor made propositions, that humanize the conversation, improve customer experience and brand perception, and ultimately significantly reduce churn and boost ARPU.
Ace data orchestration
Event Intelligent's extreme performance enables operators to leverage all the data available in the Network and BSS as well as any other 3rd party Data Sources. It has connectivity to the data, the channels and the ability to react in real time. It streams and analyses massive flows of data, to trigger actions at the right time, effortlessly, End to End.
Gain customer insight
Event Intelligence can track user journeys in real time from day one for a comprehensive view of customer experience, service usage and lifecycle on the network. This customer insight can be further enriched with device intelligence (model, brand, specs, etv.) and location data to be even further precise and highly relevant. The resulting data can be used to train Predictive models, but also to score and recommend the next best action, whether for care, stimulation, retention or upsell.
Engage at the right time and humanise the conversation
| | |
| --- | --- |
| Have you imagined being one step closer to your customer needs, understanding and recommending the most relevant proposition, informing and engaging the conversation timely, or even preventing any poor customer experience before it happens? EI embeds a campaign manager with all the necessary features for Programmatic and Contextual Customer Engagements. Leveraging triggers and superior customer insight operators can engage customer one on one, with highly personalized, timely and hyper relevant communications whenever and wherever it is the most appropriate in the customer journey, leveraging Traditional Channels (SMS, MMS, USSD) or Digital Channels (email, App, Push Notif) indifferently. | |
Surprise and delight with accurate, contextual and personalised marketing propositions
Whatever your customer needs are, there are propositions Event Intelligence can offer either inbound or outbound. Integrating a powerful wallet manager, a reward and promotion catalogue, with scoring algorithms, you are geared up to award loyalty rewards, deliver rebate vouchers, discount offers, advertise new products, make promotions and more. The Event Intelligence offer presentation and recommendation engine is also available to make the right proposition based on the customer profile and context, improving take-up rate and overall business performance as never before.
A Powerful, modern, scalable and highly integrated application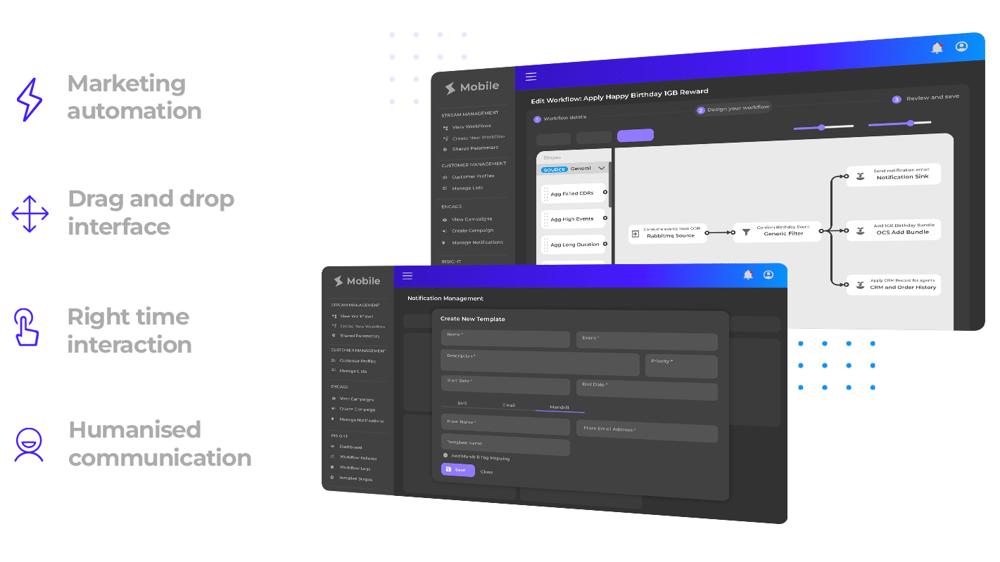 Customer Experience
Contextual Campaigns - How it works
Understand customer journey & context

Event Intelligence is connected to your data sources to understand in depth the customer journey and pinpoint pivotal moments to trigger the right actions.

Implement new use cases

Easily new use cases that suit your needs, selecting triggers and building the customer journey execution logic, step by step, with a user friendly drag-and-drop workflow designer.

Personalise engagements

Create targeted campaigns and communications delivered using the most adequate channel: SMS, RCS, Email, push notification or other. Rely on reusable templates, personalize message with Tags, track for message delivery and automate retries and retargeting

Manage Planned and Programmatic Campaigns

Define your target audience, customer profile, segments and event based triggers to engage the right customer at the right time. Planned campaign execute automatically based on your schedule, while Trigger based programmatic campaigns execute instantly based on events when the time is right for each customer as a segment of one. Easily report reach, performance and ROI to optimize your campaign planning and achieve your business objectives

Tailor made promotions, rewards and offers

Identify your customer needs, and programmatically enrol them in programs to retain, improve customer experience, surprise and delight, or reward loyalty. Manage and recommend propositions, with a catalogue of tailor made promotions, rewards and offers including from partner, that make the difference for your customer and your brand.
Intelligent and automated revenue capture
Reach your goals faster with automated orchestration, advanced customer experience and enhanced offering. To get more details about Event Intelligence get in touch with our team or download the complete Event Intelligence product sheet.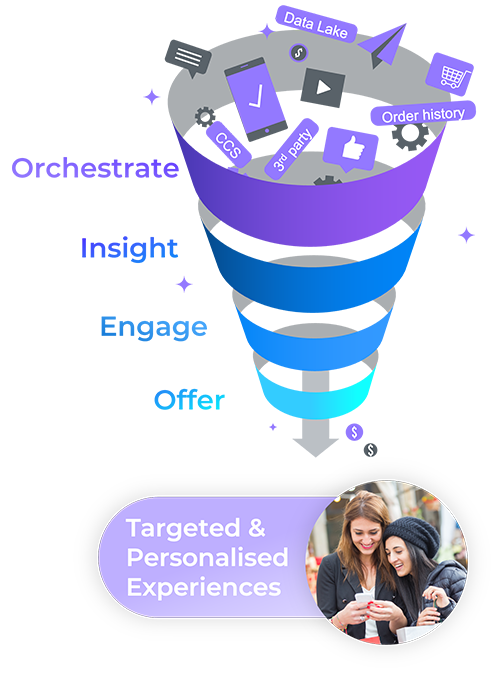 How can Event Intelligence
Benefit telco operators
Boost Revenue
Whether it is an upsell , a retention , a loyalty or an acquisition programme, customer and context aware real-time campaign automation is proven to deliver significant uplift in conversion rate and increase ROI of marketing spend.
Real-Time Orchestration automates and simplifies processes across systems and organisations, to gain efficiency, reduce cost and maximise business performance
Custom Retention & Loyalty
Being relevant and timely in customer interactions improves customer experience, and brand perception that are fundamental to loyalty and retention. Accurately segment and target your customer base with timely interactions, relevant offers and personalised communication, is not only more efficient, but also make the customers feel cared and important for your brand.
Get in touch with us
Find out more about how Lifecycle can help you accelerate your business growth and reach your goals.