what is BSS?
The business support systems that underpin a network operator or service provider's business operations are absolutely critical. The telecoms business environment is one that is highly regulated, fiercely competitive and rapidly evolving, so a good BSS platform must be designed to adapt and update very quickly to support changing market conditions, new business models and product offerings.
Lifecycle's ALLinONE BSS is a comprehensive suite of modules that support the end-to-end, back office operations of wholesale and retail telecoms providers and other subscription-based service enablers. From the point of initial sale through to provisioning, in-line customer management, billing, payments, collections and reporting, our BSS solutions are highly responsive, flexible, feature rich and easily integrated. We automate business processes to optimise growth and deliver a seamless end user experience.
maximise operational efficiency
With automated daily billing and collection, the ALLinONE BSS platform helps improve regular cash flow and through automated service suspense it also reduces financial risk.
innovate and disrupt markets
Our agile range of BSS modules are made to help you bring innovative business models to market quickly. They are also designed to support all 5G and IoT projects for additional revenue streams, whether large or small.
improve customer experience
Our solutions empower the end user with more transparency and control over their account and the ability to self-serve.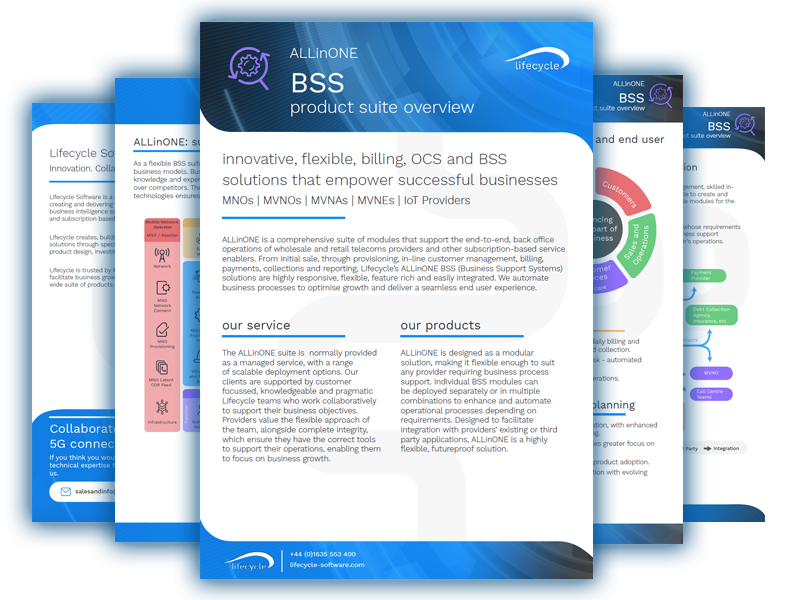 enhance your business operations
Download a comprehensive overview of our BSS solutions.
download now
product benefits
better cash flow
Fully automated daily billing, invoicing and collection.
reduced financial risk
Automated service suspense features reduce the need for manual intervention.
reduced costs
End users able to self serve for key call drivers, reducing customer service calls.
better information
Holistic view of full end user journey and CDRs.
customer service
Agents are able to action multiple activities to respond to end user requests.
no bill shock
Automated workflows prevent end users from running up high bills unintentionally.
timely information
Automated end user notifications.
more access
Self-care applications for payment and billing information.
BSS modules
ALLinONE BSS is designed as a modular solution, making it flexible enough to suit any communication service provider (CSP) or digital service provider (DSP) requiring business process support. The individual modules below can be deployed separately or in multiple combinations to enhance and automate operational processes depending on your specific requirements.
get in touch with us
Find out more about how Lifecycle can help you accelerate your business growth and reach your goals.
Contact us