what is CCS?
Lifecycle's cloud-native, carrier-grade CCS platform is 3GPP compliant, highly available and resilient with real-time rating and service control. It provides the essential Charging Function (CHF) of a 5GC network for both online and offline services. Our CCS platform integrates with both existing Long-Term Evolution (LTE) services and the emerging 5G Core Service-Based Architecture (SBA), unlocking 5G monetisation opportunities in these architectures that can easily be scaled to demand.
As the industry transitions from existing 3G and 4G standards to 5G NSA and 5G Core SA (standalone) networks, fresh opportunities are arising for innovation offering brand new services that were not possible before.
The new 5G Core and service-based architecture delivers the ability to slice the network to support a specific set of business cases, with varying quality of service (QoS) depending on the demands placed by the business case. This slicing ability coupled with 5G speeds sets the stage for enhanced mobile broadband (eMBB) and brand new IoT opportunities, primarily in the areas that require ultra-reliable and low-latency communications (URLLC) and massive Machine Type Communications (mMTC).
5G monetisation
Our high capacity, high availability 5G-ready platform is future proof by design. Our cloud compatible architecture with adaptive service control helps providers monetise 5G.
minimised risk
Extensive real-time control empowers operators to manage converged rating and charging of end user activities. Give spending control to end users while still delivering revenue protection to providers.
ability to work with anyone
Our network and supplier agnostic solutions are cloud ready and multi-tenanted, enabling you to work with any network or partner, anywhere in the world.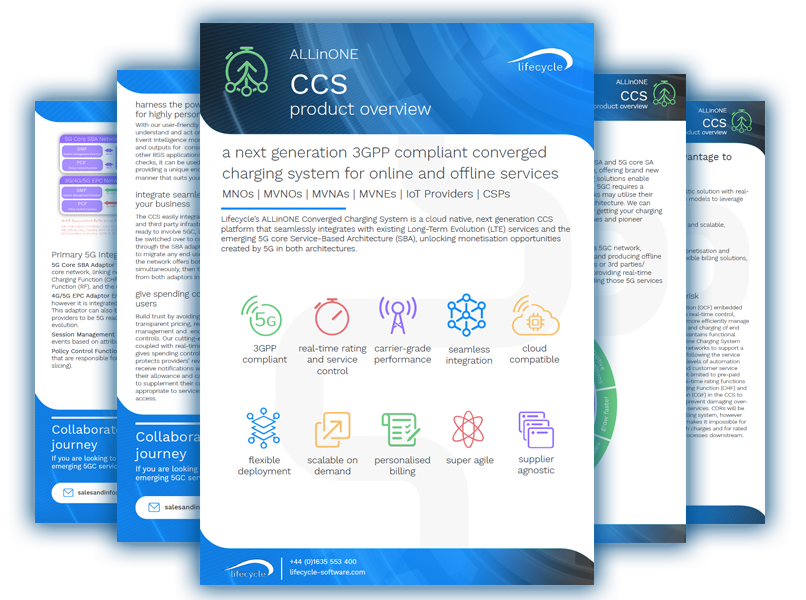 5G ready and fully integratable
Download our guide to CCS and discover how the transition to 5GC with PCF integration delivers QoS billing and network slicing.
download now
Product Benefits
innovate and grow
Support for large service request quotas to supply 5G bandwiths and adaptive real-time service control enables providers to monetise new 5G opportunities while providing an optimal end user experience.
minimise risk
Our cutting edge rating capability, coupled with real-time service management gives spending assurance to end users, while protecting provider revenues.
integrate seamlessly
Our CCS enables networks to supply 5G services utilising their existing LTE architecture. When you are ready to involve 5GC, the system can easily be switched over without the need to migrate end users to new platforms.
manage network demand
Networks supplying 5G services over LTE can assign dynamic service quota management to the CCS to reduce demand on the network.
personalise the end user experience
With our user-friendly software, you can better understand and act on end user behaviour for highly personalised billing, in a manner that suits your business.
disrupt markets
Our cloud compatible architecture with adaptive service control is agile and highly configurable to support business goals, innovation and enhanced end user experience in the transition to 5GC.
customise deployment
We offer a range of scalable deployment options; on-premise, private or public cloud accessed via a flexible business API gateway, so you can deploy in a way that suits your business.
optimise operations
Our carrier-grade solutions are enable you to to work with any network or partner. They automate and optimise rating processes that will scale with your business.
digital transformation
Lifecycle can help you start your journey to 5GC service-based architecture now. We will get your charging and 5G billing capabilities ready to take advantage of new 5GC enabled business cases and pioneer additional revenue streams.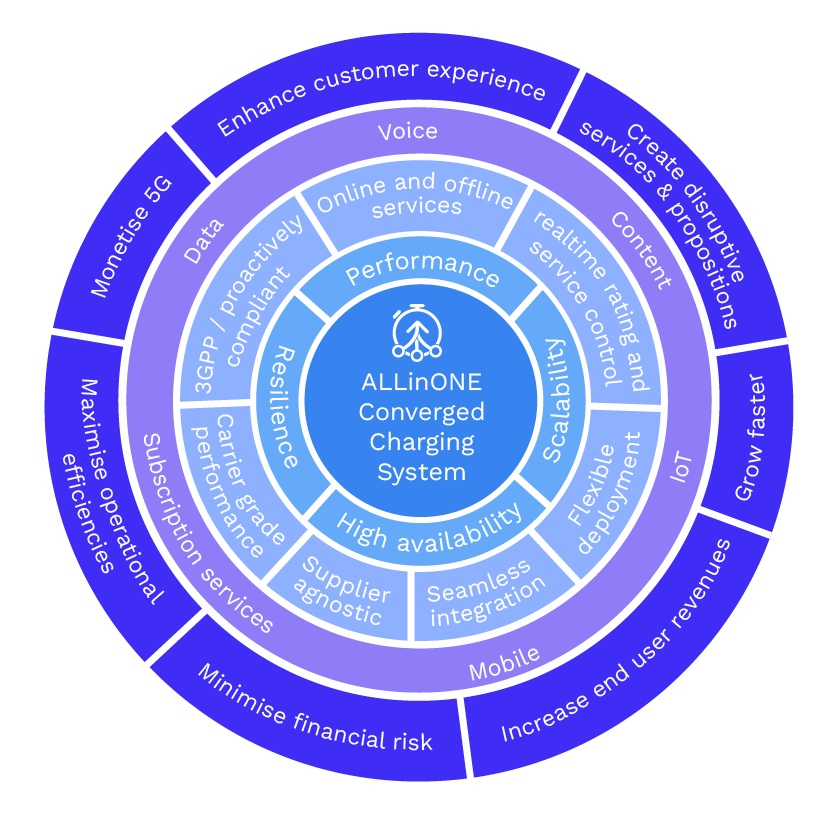 get in touch with us
Find out more about how Lifecycle can help you accelerate your business growth and reach your goals.
Contact us