introducing the ALLinONE Business Intelligence module
The ALLinONE Business Intelligence module is a reporting platform that transforms data from across the ALLinONE BSS suite as well as third party sources, to create a single optimised database and front end tool. This can be used to efficiently deliver intelligence and insight on business performance. Business Intelligence enables clients to take control of building and customising their own analytical reports, meeting the reporting requirements of teams across the business, from operations to sales and finance.
timely information
Automated loading of key data and a front end tool enable clients to self-build queries, reducing time and cost to obtain new information.
enhanced knowledge
Scheduled and hierarchical reporting allows prompt and relevant information dissemination.
improved understanding
Provision of dashboard tools to create customised views of key information enables smarter, informed decision making.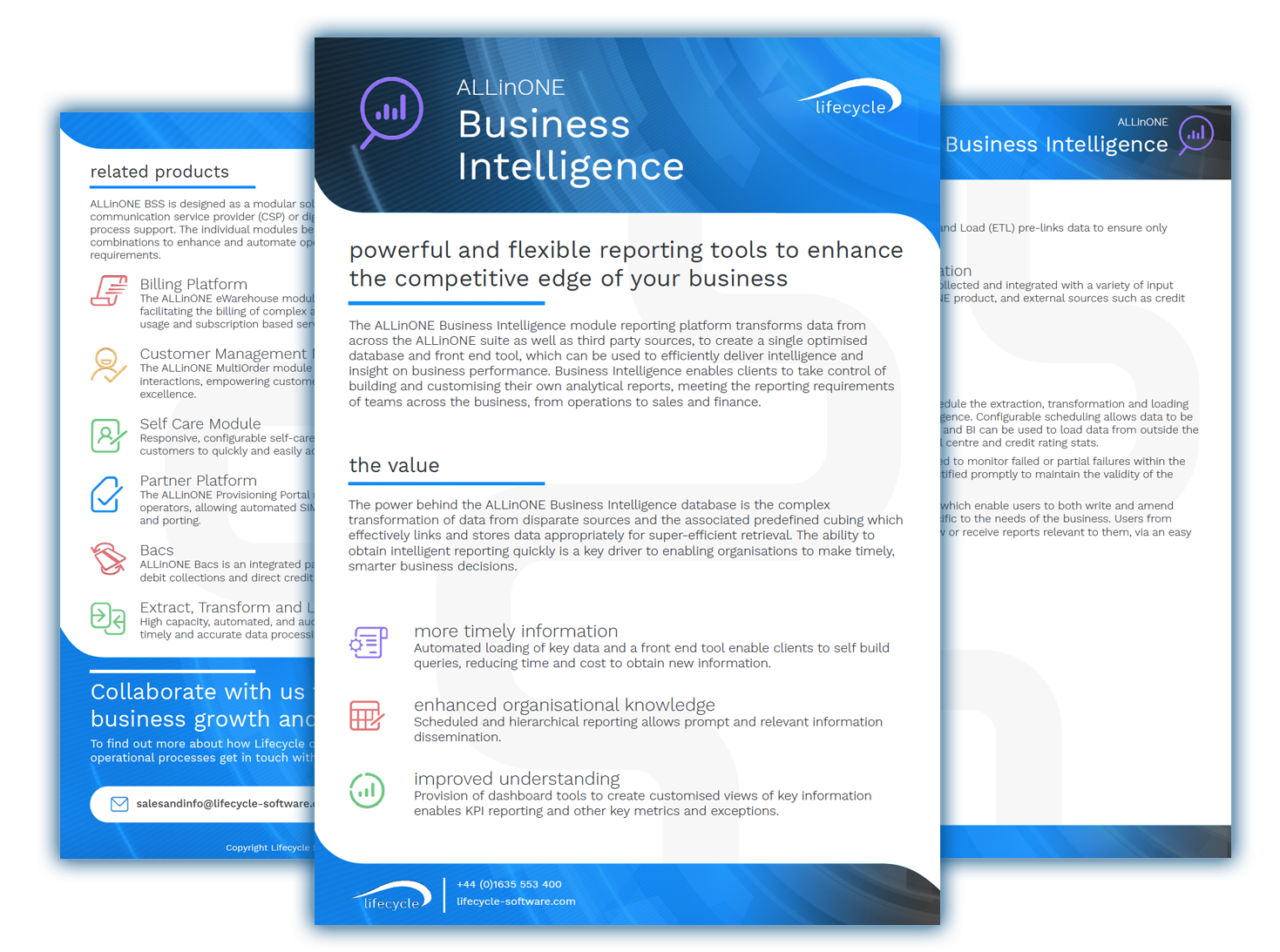 powerful, flexible reporting tools
Download the complete Business Intelligence product sheet.
download now
key product features
ALLinONE Business Intelligence is an optional module within the ALLinONE BSS suite which can be deployed alongside other key ALLinONE components. As standard, SQL Server Reporting is provided as an interface for clients to create and view reports. A wide range of tools can be used by clients to connect to the database to allow for in-situ tools to be used, without additional costs or training.
download bss overview
related products
ALLinONE BSS is designed as a modular solution, making it flexible enough to suit any communication service provider (CSP) or digital service provider (DSP) requiring business process support. The individual modules below can be deployed separately or in multiple combinations to enhance and automate operational processes depending on your specific requirements.
get in touch with us
Find out more about how Lifecycle can help you accelerate your business growth and reach your goals.
Contact us