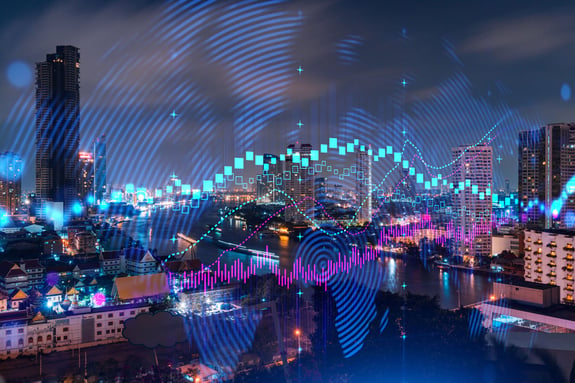 ALLinONE Billing
Designed for a wide range of usage and subscription based services.
ALLinONE Telecom Billing Platform
This sophisticated, high capacity billing platform enables high volume billing of usage based, ad hoc, and subscription based services. With extensive functionality to support complex charging across multiple products, billing services can be delivered to a multitude of businesses, including Tier 1 Telecom Wholesalers, Switch Owners, MVNOs and OTT providers. The module also supports usage-based billing for IoT (Internet of Things), across a wide range of communications services.
Infinite business propositions
The billing platform's innate flexibility supports a multitude of costing options and products providing real competitive edge.
Optimised operational costs
With a combination of workflow automation and Lifecycle's managed services offering, providers are freed from onerous administration, saving valuable resources and minimising costs.
Easy global billing
Supports multi-tax, multi-currency, making it easy to manage billing around the world.
flexible and feature rich
Download a PDF version of the complete Billing Platform product sheet to share and read offline.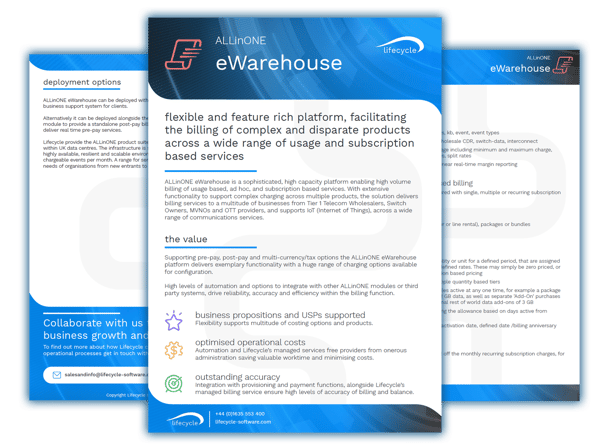 Usage billing
Products can be created and configured with single, multiple or recurring subscription fees in advance or in arrears.
Account credit management
Supports hierarchical accounts and configuration to enable accounts remain within a pre-defined credit limit.
Bundles and discount options
Provides ultimate flexibility for bundle allowance definition and discount options.
Automated workflow triggers
Supports the configuration of workflow triggers to control services, raise alarms or deliver notifications.
Multi-tax, multi-currency
Makes global billing easy with support for multi tax and multi-currency options.
Invoice generation
Offers a wide range of invoicing options, branded for your business.
The ALLinONE Billing can be deployed within a full BSS suite to deliver an end-to-end business support system for clients or with a subset of the BSS modules to meet the needs of a business.
Get in touch with us
Find out more about how Lifecycle can help you accelerate your business growth and reach your goals.