introducing the ALLinONE Provisioning Portal module
The ALLinONE Provisioning Portal manages the operational business activities of MVNO or MNO interactions including SIM enablement and pairing, network activation, suspension, termination, service control and porting. It can undertake all aspects of SIM management, including integrating SIM fulfilment providers, number recycling and Ofcom reporting requirements.
Using a robust and intelligent reactive web service the portal is able to integrate with networks, client systems and other Lifecycle modules. The APIs available are backwards-compatible, enabling new functions and features to be deployed without impacting client or network systems.
freedom to work with anyone
Our supplier agnostic provisioning portal has flexible APIs which can be easily configured to work with any network or partner you want to work with, anywhere in the world.
optimised implementation
We offer a range of flexible integration and deployment options so that the best implementation model can be selected to suit a range of applications, in-house skills and resources, deployment timeframes and operational budget.
seamless customer experience
The ALLinONE Provisioning Portal uses robust and intelligent APIs to integrate with both mobile networks and client solutions to provide highly automated, seamless and reliable services.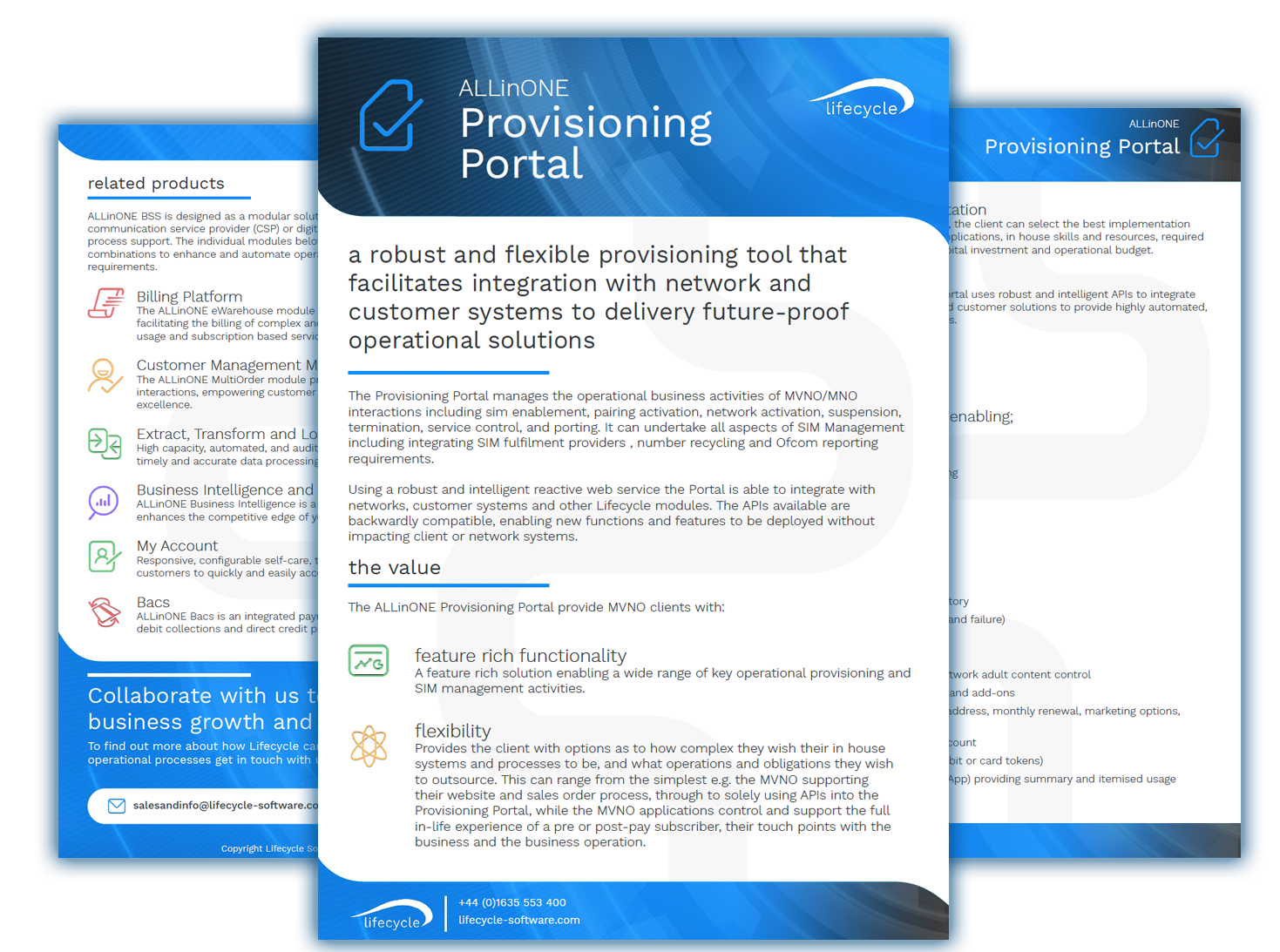 futureproof operational solutions
Download the complete Partner Platform product sheet.
download now
key product features
The ALLinONE Provisioning Portal can be deployed using its web interface to provision, manage services and view orders (it can be set to read-only for API users), or using a JSON based RESTful API to integrate into the client's CRM and other back office systems.
Lifecycle provides the ALLinONE product suite as a fully managed, private cloud solution within UK data centres. The infrastructure is specifically designed and proven to support highly available, resilient and scalable environments, capable of processing billions of chargeable events per month. A range of service support options are available to meet the needs of organisations, from new entrants to established providers.
download bss overview
related products
ALLinONE BSS is designed as a modular solution, making it flexible enough to suit any communication service provider (CSP) or digital service provider (DSP) requiring business process support. The individual modules below can be deployed separately or in multiple combinations to enhance and automate operational processes depending on your specific requirements.
get in touch with us
Find out more about how Lifecycle can help you accelerate your business growth and reach your goals.
Contact us