introducing the ALLinONE MultiOrder module
Meet our CRM, designed to meet the needs of telecom companies. The ALLinONE MultiOrder module is a cloud based platform that enables customer care agents to support and manage all aspects of a customer on-boarding and in-life journey via a single application. They can fulfil customer requests for additional sales, update tariffs or product subscriptions as well as action queries or complaints.

Supporting the front-end screens used by agents the ALLinONE MultiOrder has feature rich workflow engines that integrate with a wide range of other Lifecycle modules and third party applications to deliver seamless provisioning with suppliers, and activation of services. The vast range of automation for onboarding, in-contract and end-of-contract activities enable businesses to optimise their operations and concentrate on sales and the delivery of great customer service.
drives efficiency
Automated workflows initiate, complete and record product provisioning by integrating with suppliers; optimising efficiency and reducing errors caused by manual intervention.
delivers standardisation
CRM workflows enable gold service standards for all orders to be achieved with proactive monitoring of exceptions and issues.
supports customer excellence
Customer Care Agents have access to all customer information within a single platform and are able to trigger a wide range of actions to deliver an outstanding customer experience.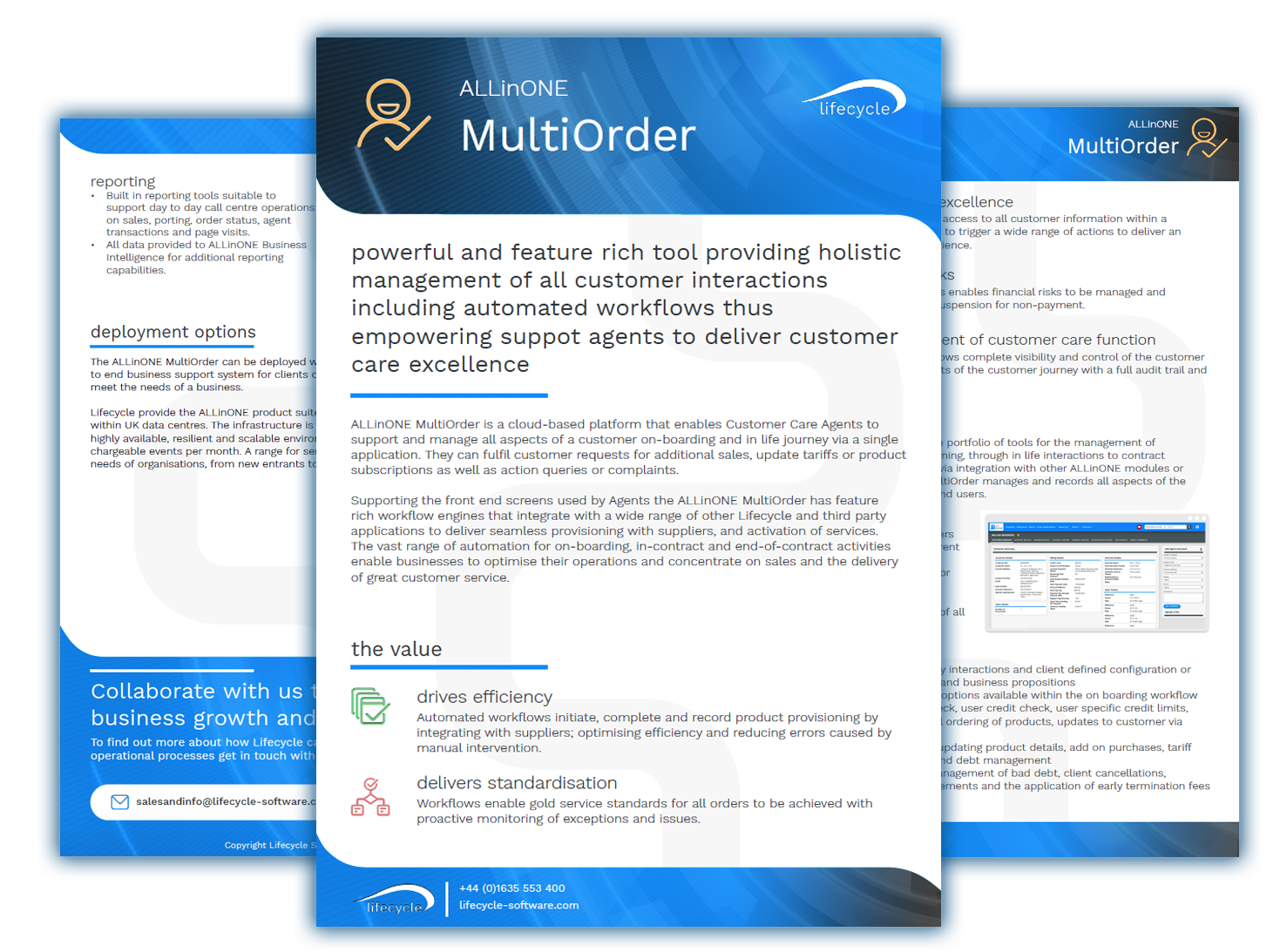 holistic customer management
Download the complete Customer Management Platform product sheet.
download now
key product features
The ALLinONE MultiOrder can be deployed within a full ALLinONE BSS suite to deliver an end-to-end business support system for clients or with a subset of the ALLinONE modules to meet the needs of a business.
download BSS overview
related products
ALLinONE BSS is designed as a modular solution, making it flexible enough to suit any communication service provider (CSP) or digital service provider (DSP) requiring business process support. The individual modules below can be deployed separately or in multiple combinations to enhance and automate operational processes depending on your specific requirements.
get in touch with us
Find out more about how Lifecycle can help you accelerate your business growth and reach your goals.
Contact us