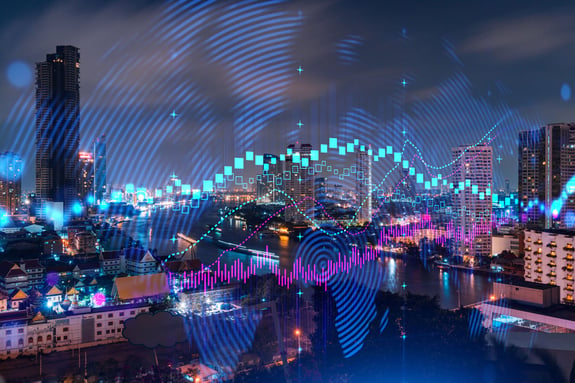 Customer Management Platform
Empowering support agents to deliver customer care excellence.
Introducing MultiOrder Customer Management Module
Meet our CRM, designed to meet the needs of telecom companies. The MultiOrder module is a cloud based platform that enables customer care agents to support and manage all aspects of a customer on-boarding and in-life journey via a single application. They can fulfil customer requests for additional sales, update tariffs or product subscriptions as well as action queries or complaints.
Supporting the front-end screens used by agents the MultiOrder has feature rich workflow engines that integrate with a wide range of other Lifecycle modules and third party applications to deliver seamless provisioning with suppliers, and activation of services. The vast range of automation for onboarding, in-contract and end-of-contract activities enable businesses to optimise their operations and concentrate on sales and the delivery of great customer service.
Drives efficiency
Automated workflows initiate, complete and record product provisioning by integrating with suppliers; optimising efficiency and reducing errors caused by manual intervention.
Delivers standardisation
CRM workflows enable gold service standards for all orders to be achieved with proactive monitoring of exceptions and issues.
Supports customer excellence
Customer Care Agents have access to all customer information within a single platform and are able to trigger a wide range of actions to deliver an outstanding customer experience.
Holistic customer management
Download the complete Customer Management Platform product sheet.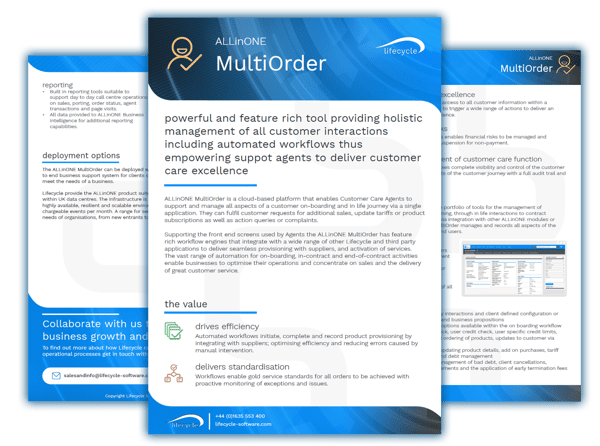 Supplier integration
Provisioning of multiple services across multiple suppliers is supported. Allows integration with a wide range of applications including sales portals, logistics, payments (credit and debit), credit checking, debt management, finance systems, mobile number porting, all bespoke to client specifications.
Automated workflows
Standard and additional client-defined workflows are available for key interactions and to support USPs and business propositions. Workflows support new customer set-up, in-life management and terminations.
Agent comments and tickets
Comments or tickets can be created by agents for all customer interactions and actions taken. The categorisation and status of tickets can be defined by client and helps agents manage and report on actions and issues.
Web based UI
All users require is internet access and a current browser. White listed addresses required for access to add additional security, and unique user authentication ensures authorised access and auditability of all actions.
Single account view
CRM with full account history available for agents to view. Ensures the capture of a complete audit trail of changes, by user type, as well as notifications, comments or tickets.
Detailed reporting and business intelligence
Built-in reporting tools support day-to-day call centre operations, with additional reporting capabilities.
MultiOrder can be deployed within a full BSS suite to deliver an end-to-end business support system for clients or with a subset of BSS modules to meet the needs of a business.
Get in touch with us
Find out more about how Lifecycle can help you accelerate your business growth and reach your goals.