what is OCS?
Accurate real-time usage metering is essential in most telecoms markets today, and it is especially important where prepaid models are dominant. An Online Charging System (OCS) can be thought of as the heart of a telecommunication network architecture; all the transactions within the system are linked with and processed by the OCS, such as the subscriber's account balance and charging transactions. The network operator or service provider can use the OCS to enforce credit limits by automatically controlling service access and producing call data records (CDRs) in order to apply the correct charges to the billing platform.
Lifecycle's cloud ready OCS is a highly available, resilient, supplier agnostic solution with real-time rating functionality that empowers providers to monetise 5G, maximise digital opportunity and enable business growth. Our carrier-grade solutions automate mission critical rating and are easily integrated and scalable, catering for huge volume increases as your business grows. Our microservice strategy allows us to quickly build and deploy new monetisation and service propositions, enabling you to win customers with innovative, flexible rating solutions tailored to your business goals.
Lifecycle's OCS System
commercial and competitive edge
Our innovative, flexible rating solutions are highly configurable to support endless possibilities for delivering new disruptive service, 5G and IoT propositions to the market.
minimised risk, real-time capability
Extensive real-time control empowers operators to manage converged rating and charging of end user activities. Give spending assurance to end users while still delivering revenue protection to providers.
ability to work with anyone
Our network and supplier agnostic solutions are cloud ready and multi-tenanted, enabling you to work with any network or partner, anywhere in the world.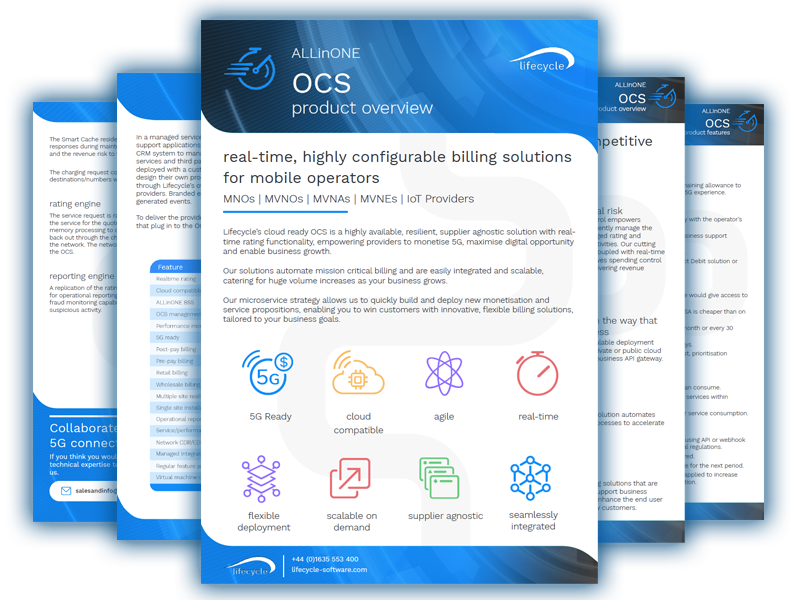 flexible, 5G ready and fully integratable
Download our guide to choosing the OCS deployment option that best suits your business model.
download now
product benefits
monetise 5G
Our OCS is ready to switch to the Converged Charging System (CCS) required for 5G network integration, without the need to migrate end users. This enables providers to monetise 5G, while optimising the end user experience.
reduce capital expenditure
The OCS is public cloud compatible offering a greater choice of hosting and service management options, optimised for your operations.
disrupt markets
Our microservice strategy enables you to quickly build and deploy innovative new monetisation and service propositions.
minimise risk
Our cutting edge rating capability, coupled with real-time service management gives spending assurance to end users, while protecting provider revenues.
customise deployment
We offer a range of scalable deployment options; on-premise, private or public cloud accessed via a flexible business API gateway, so you can deploy in a way that suits your business.
optimise operations
Our OCS solution automates and optimises rating processes, and will scale with your business.
accelerate growth
Our carrier-grade solutions are ready to work with any network and our flexible APIs can be configured for any supplier. It is cloud ready and multi-tenanted, making it easy to adopt by wholesale partners for accelerated business growth.
integrate seamlessly
Diameter or API driven interfaces maximise compatibility with existing business or third party infrastructure.
business use cases
A series of use cases about the competitive advantage Lifecycle's OCS can provide your business.
get in touch with us
Find out more about how Lifecycle can help you accelerate your business growth and reach your goals.
Contact us